Though many students welcome test-optional admissions, many drawbacks exist. Still, at least 1,800 schools do not require ACT or SAT scores for fall 2022 applicants. 
Growing Grade Inflation
The National Center of Education Statistics (NCES) just released the 2019 National Assessment of Educational Progress High School Transcript Study. In summary, American students get better grades than ever, but demonstrate less knowledge, illustrating that not all grades and transcripts are created equal. Earlier studies showed similar results, as shown in this chart.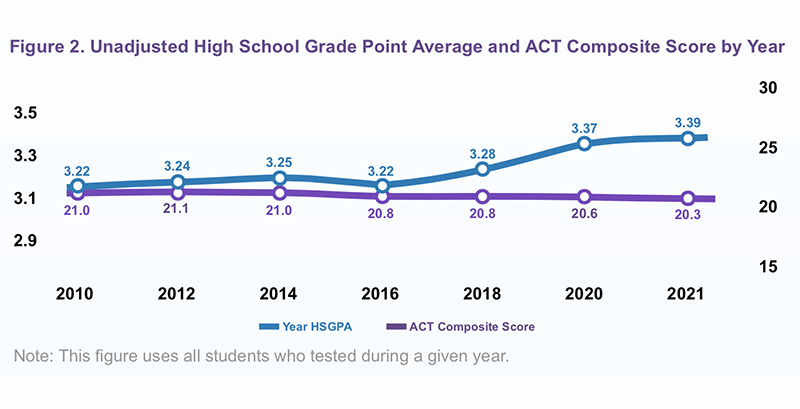 Further, during Covid, some school districts allowed students to change course grades to pass/fail. 
Increased Reliance on Artificial Intelligence 
Because University of California admissions staff now use test-blind admissions, their "comprehensive review" process now prioritizes grades, activities, and recommendations. One problem with these alternatives to ACT and SAT scores is that they tend to favor affluent students even more than test scores do. Grades, extra-curriculars, and recommendations tilt the playing field even more in favor of the affluent. The "Varsity Blues" scandal shows that these measures provide an uneven playing field at best, and those with money, power, and/or privilege can beat the system.
Also, due to the increased workload, UC may expand its use of artificial intelligence to create a "predictive score" for each applicant. UC has identified several potential pitfalls of greater AI use in admissions, including negative outcomes based on incomplete data, or unexpected consequences from the AI tools.
Missed Money-Saving Opportunities
Most merit-based scholarships still require a test score to determine their recipients. Even UC applicants who choose not to submit their test scores may wish they had. UC campuses still use test scores to help determine class placements after enrollment.
Reversing the Trend
In March 2022, MIT admissions reinstated their test-required admissions. MIT's research found that ACT/SAT test scores:
improved the ability to accurately predict academic success of MIT students
reduced barriers to proving college readiness
helped identify students within schools that did not provide high levels of coursework or enrichment—students who otherwise would have been missed
Test-optional essentially means optional for students excited to pay full price AND super-confident they'll get in. For the rest of us, prepare for and take the ACT and SAT tests once each. Then work hard and take whichever test best suits you two or three more times. That college-ready score is the competitive advantage you need to win the money and get in. Increasing that score remains the best-paying high school job you'll ever have.